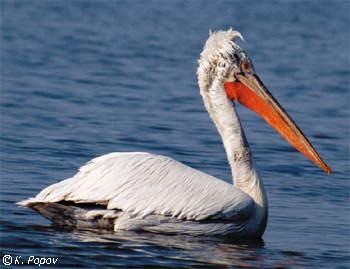 Comments:
Thanks to the joint efforts of Swarovski Optik and "Le Balkan-Bulgaria" Foundation the pelican colony this year was rescued.
The seven pelican nests built on the artificial wooden platform are sufficient prove for the effectiveness of the chosen method. It shows how the future management efforts should be oriented.
Despite of the flooding, the 1999's breeding season was successful thanks to the installation of the thick "sandwiches" made of reed sheaves.
The breeding success of the colony was very high – 1.14 at 0.87 on the average (for the period 1955-1998).
Conclusions:
The measures taken in the autumn of 1998 were absolutely necessary for the survival of the colony and have to be repeated,
The artificial wooden platform has to be enlarged twice,
The fence has to be moved back for at least 15-20 m, to increase the breeding place.
An artificial raft anchored in the open water near the existing colony has to be built as an alternative new breeding islet,
The threats and limiting factors in the pelicans feeding ground have to be investigated

- In the neighboring Romanian wetlands

- In the micro reservoirs around Srebarna lake.

The public awareness about the pelican conservation project has to be increased. An important part of this promotion is the publishing of Branta magazine as a basic informative tool of Le Balkan International.